Wedding Limousine Service
MAKE YOUR SPECIAL DAY MORE SPECIAL
How often do you get to ride in a limousine? Your wedding day is the perfect excuse. A Wedding Limo San Francisco is the opportunity to arrive at and leave your wedding in luxury and style and is the perfect way to let everyone know how special this day is to you. We offer a serene, enchanted journey from the ceremony to the reception and beyond. After the magic of your first kiss as husband and wife and your walk past smiling relatives and guests, your luxurious wedding limousine and private chauffeur will be waiting for you both. Step in and sink into the elegant comfort of a Premiere impeccable limousine.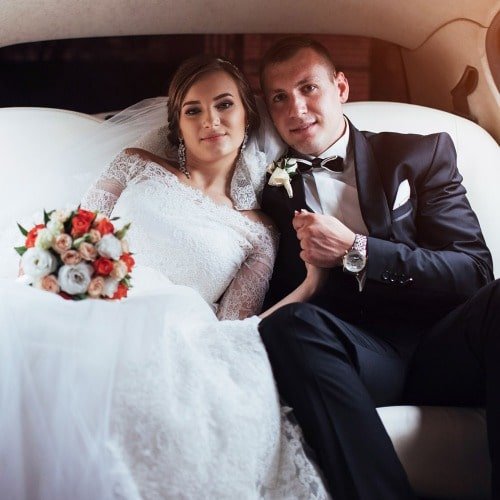 Steal your first private embrace of marriage. Gaze at each other with all the wonder and delight of beginning your lives together. Your first moments of the most memorable time of your life are spent on the journey from your wedding to the reception. Trust this time to SG World Transportation. We believe that our wedding limo service makes all the difference. You'll experience the highest level of professional wedding transportation, and your chauffeur will go out of their way to exceed all of your expectations. Limousine service for the bride and groom is only part of the transportation to consider for your special wedding day. SG World Transportation provides transportation for all of your special guests to and from your celebration. Friends and family arriving early? Send them on a Wine Tour. And of course, we will offer safe and reliable transportation back to the hotel from your wedding reception in a luxurious limo.
Don't forget that many of the things that make limousine services for weddings a great idea, like safety, convenience, and style, also make them a great idea for other important events like bachelor and bachelorette parties. Limousines make special days even more special.
Depending on your transportation needs, we have the vehicle to fit your expectations.  Our vehicles include the Cadillac XTS, Mercedes S Class, GMC Yukon XL/Chevrolet Suburban, and Sprinter Van.  Amenities included are GPS navigation with traffic monitoring iPads, flight tracking, artesian waters, and wi-fi, all complimentary as part of your reservation.
PROFESSIONALISM PERSONIFIED
All Chauffeurs are trained thoroughly in street knowledge, customer service, and safety. Both, the drivers and the vehicles meet all requirements of the quality labels. Clean, modern, and safe. Below you see a list of chauffeured services we can offer.