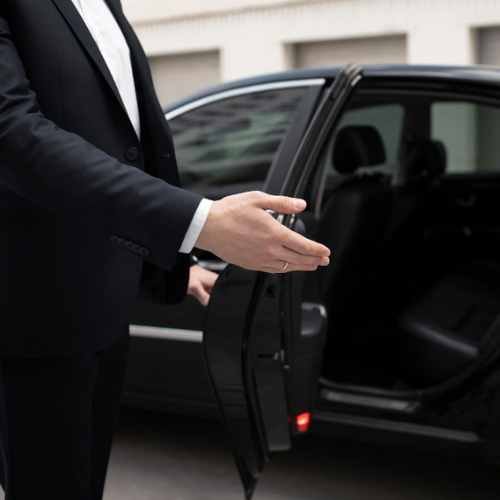 Car Service San Jose
Exploring City in Luxury and Comfort with Car Service San Jose
Are you planning a trip to San Jose, the bustling heart of Silicon Valley?  If you're a business traveller, tourist, or a local resident, and looking for a premium travel experience within the city. 
We offer town car service and premier limo car service San Jose, CA, if you want reliable and luxurious transportation. For a luxury journey, our San Jose car service is the best option whether you're going for work or a trip. Our well-maintained fleet of automobiles includes elegant black cars that provide the highest possible standard of sophistication and accessibility. 
Our skilled drivers are dedicated to giving you a comfortable and pleasurable ride, ensuring you get to your destination on time and comfortably. Choose our town car or limo service in San Jose, and you have confidence in the most incredible possible transportation services.
Car Service San Jose to San Francisco Airport
Travelling may be stressful, particularly when understanding the complexities of airport operations. We've developed the latest technology in airport transportation at SG World Transportation to give you a smooth and pleasurable trip.
Effective Airport Pickups: We keep an eye on the state of your flight to ensure that your transport will be there when you get there. You may safely start your journey on schedule, bidding adieu to uncomfortable wait times.

Luxurious Vehicles: Our fleet for San Jose to San Francisco Airport includes a variety of luxury automobiles, such as beautiful limos. Whether travelling for business or to attend a particular event, you arrive in luxury and leave with an unforgettable impression when you travel with us.

Experienced Chauffeurs: Not only teamsters are skilled behind the wheel, but they also know how the airport is laid up. They'll make sure your transfer from the airport to your location goes well, help you with your bags, and offer you a welcome.
Vehicle Specifications and Features
SECURE, COMFORT, PROFESSIONAL
Our collection includes a selection of luxury cars from renowned automakers, including Limo, Town Car, CA, San Jose Car and black cars in San Jose.  We also offer Mercedes-Benz, BMW, and Cadillac. These cars offer the perfect ratio of comfort and style, with room for passengers. You may anticipate a sophisticated and pleasant trip because of features like soft leather upholstery, in-car entertainment, and climate control.
Roomy & Stylish
We have great executive SUVs that are perfect for small-group trips. These vehicles, which are Lincoln and Cadillac manufactured, feature spacious interiors that can easily fit up to travellers. They provide a classy and relaxing ride and have climate control.
Our Chauffeurs Drive

 Will there be a more extensive group appearing? Luxurious vans and minibuses, like the Mercedes-Benz Sprinter, have spacious and comfy seats that accommodate up to 14 passengers. With ample legroom, these vehicles are excellent for group travel since they provide a comfortable ride.
Executive and Classic
Use one of our town cars, for a luxurious and historic look. These vehicles seat passengers and have executive features like a bar area and privacy screens. Enjoy a stylish and comfortable journey with these magnificent vehicles.
Experienced Drivers and Facilities
You can trust professional drivers who value your safety and comfort throughout our service. Bring refreshments, use the free Wi-Fi, or spend time with the TVs and DVD players. Also, several vehicles are available with privacy walls and customised climate control. We take excellent care of our cars to give you a comfortable and reliable trip.

Advantages of SG San Jose Limo Service
Transparency and Peace of Mind
We understand that planning your transport budget is essential to your trip arrangements. There are no surprise prices or hidden limo costs with our all-inclusive pricing. You may feel secure knowing the price you see when you rent our limo service in San Jose. This type of transparency is unique and gives you the confidence to set up your trip.
Airport transportation can be difficult, but it's simple with SG World Transportation. We keep an eye on your flight's status to ensure your transport service is there for you when you land. We specialise in providing smooth airport transportation. We've got you covered, so say goodbye to the fear of missing connections or unpleasant airport pickups.
 Travel for Personalized Experience
Everyone who travels has different needs and preferences, and we are aware of this. Whether you're visiting the area for business, pleasure, or a special event, our San Jose car service may be customised to meet your needs. The goal of your journey is to enjoy each and every moment as you travel, rather than just to get from point A to point B. 
You may customise your trip experience with SG World Transportation to fit your preferences and timetable.
Explore San Jose with a Professional Limo
The team offers more than just tour guides around the dynamic city of San Jose. Their extensive experience with the region allows them to provide expert recommendations for places to eat, things to do, and places to visit. Selecting this car service gives you access to a trusted collaborator committed to ensuring your time in San Jose remains nothing else exceptional.
In San Jose, California, SG World is a town car and limousine services company. We're here to ensure your trip to San Jose is not only hassle-free but unforgettable, It has a dedication to all-inclusive pricing, a staff of skilled chauffeurs, and a strong focus on customer satisfaction. Whether you require smooth airport transportation or enjoy the city, you can count on us to provide loveliness, comfort, and convenience.
Our adventure in San Jose begins with us. Set out on a tour that shows class and pride by scheduling a San Jose car service right now. 
Q: How Can I Book Your San Jose Car Service?
Ans: Booking with SG World Transportation is effortless. You can book through our user-friendly website or simply call us at   (Add Contact). Our dedicated team is available all the time to assist you with your booking and answer any inquiries you have.
Q: Are Your Rates Competitive?
Ans: Our prices have been optimised to offer our clients outstanding and competitive value. Our goal is to provide exceptional service without sacrificing affordability.
Q: Can I Request Specific Facilities in the Vehicle?
Ans: Your experience can be customised to your preferences. You may choose extras like Wi-Fi, drinks, and entertainment options when booking a vehicle to make your travel as comfortable as possible.
Q: Do You Offer Services for Special Events and Occasions?
Ans: Yes, SG World Transporation can handle all your transportation needs for any special occasion, including proms, weddings, business meetings, or any other. Together, you and our staff of experts can design the ideal transportation for your event.